Now, don't get us wrong… Black Friday deals can be brilliant. Especially if you're genuinely in the market for a product – like when your vacuum cleaner breaks and Dyson is offering a £200 saving. Perfect. It can be even more beneficial to businesses, potentially giving you your best profits of the year.
But it goes without saying that this major shopping event has a negative impact on the environment. We're here to explain the impact of Black Friday and offer up some more sustainable options.
What Is Black Friday?
Black Friday is a major shopping day which started in America in the 1970s and is always the day after Thanksgiving, towards the end of November. Once the Thanksgiving festivities are complete, it's a chance for retailers to capitalise on the beginning of the Christmas shopping period.
In more recent years, the shopping event has gone global. Cyber Monday was introduced in 2005 to become the biggest online shopping event of the year, turning the one-day sale into a whole weekend – or in some cases, a week-long or month-long campaign.
Why Is It Called Black Friday?
The term has had other meanings, but in the 1980s retailers wanted the derivation clarified. The name Black Friday refers to the fact that retailers traditionally operated at a financial loss for most of the year and made their profit during the holiday season, beginning on the day after Thanksgiving. When this was recorded in the financial records, accounting practices would use red ink to show negative amounts and black ink to show positive amounts. Black Friday, therefore, is the beginning of the period when retailers would no longer be 'in the red'.
Is Black Friday Bad For The Environment?
There are some frightening statistics associated with Black Friday. Firstly, online shopping can lead to higher emissions than shopping in stores, which is down to the energy needed to run warehouses and emissions from home delivery. In 2021, UK deliveries from Black Friday sales were estimated to release more than 429,000 metric tons of greenhouse gas emissions.
Waste is also another massive factor. Huge discounts and cheap products lure people into buying something they don't need – in fact, roughly 80% of items bought on Black Friday are thrown away after just a few uses or without being used at all! Products that aren't thrown away are often returned to the company, but they won't always be put back on sale, leading to more products in landfill.
For this reason – and for the fact that turning a profit isn't a guarantee with such large savings – some retailers don't take part in Black Friday at all. In the UK last year, Marks & Spencer, B&M, Next, IKEA, Primark and TK Maxx were some of the big brands who didn't offer discounts.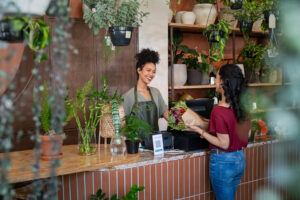 Is There An Alternative?
As a sustainable company, we're all about Green Friday! This alternative day promotes a focus on responsible shopping by buying from small, local, independent shops or opting for second-hand items. By shopping local, you're also helping the shops that need your support the most during this cost-of-living crisis.
There's also another angle. There is a Green Friday movement to ignore shopping completely, instead encouraging people to get outside in nature, give to worthwhile causes, create something, meditate, or spend time with friends and family. All that good stuff.
What Can Businesses Do On Black Friday?
As we said before, if your business sees its biggest takings (and profits) on Black Friday, you're obviously going to want to take part… who could blame you? Whether you're a small or large business, there are some things you could consider to make the day more green.
Only offer all-in-one deliveries, rather than multiple shipments – or encourage your customers to choose that option. Use as little packaging as possible and make sure any packaging you do use is sustainable. Set up a donation scheme at your physical or online checkout, to environmental charities such as Friends of the Earth, and encourage your customers to do their bit.
Whatever you decide is right for you as an individual or your business, we hope you have a successful Black (Green) Friday!