Can printing be sustainable? The nature of the marketing industry is that there will be some carbon emissions, particularly with printed marketing materials and communications. But, there are ways to reduce and offset the unavoidable impact by using different initiatives, materials and accreditations. We have been researching the different accreditations that can help printers to be more sustainable and show their environmental efforts.
Printing Accreditations
Probably one of the most recognisable accreditation logos for print materials is the FSC symbol. An FSC (Forest Stewardship Council) accreditation confirms the paper trail for that material and that it has come from a forest that is being managed to preserve biological diversity, benefitting the lives of local people and workers whilst ensuring it sustains economic viability. All wood to create paper with an FSC certification comes from forests that meet the FSC's principles and criteria. When using a printer with an FSC accreditation, the logo can be printed on any materials requested to promote the environmental message further.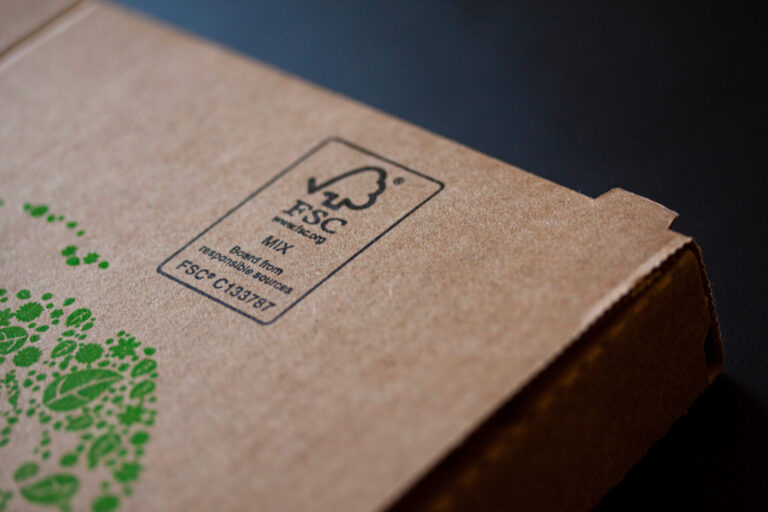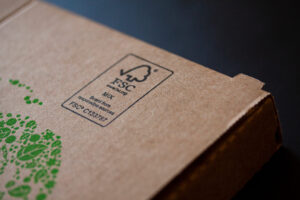 The ISO 14001 certification is a standard for Environmental Management Systems (EMS) that any company can have, including printers. It shows an active effort to reduce waste management costs and demonstrates a commitment to protecting the environment. This internationally recognised standard sets different goals year on year to show the company with the certification continues to strive to be more sustainable, in line with the constantly changing environmental laws and regulations.
We are proud to say that some of the printers that we use here at Trident Marketing are carbon-balanced through the World Land Trust. There are only 50 printers in the UK with this certification. Being carbon balanced means that all their emissions are calculated, and they pay the World Land Trust to purchase endangered land, which offsets their carbon output. They can also do this for any materials used on a job, free of charge for clients when requested, and the clients are then able to use that logo on the printed material. It is a simple choice that will reduce the carbon impact of printed marketing communications, quantifying the amount of CO2 balanced and the area of high-value conservation land preserved. Carbon balancing is achieved through preserving ecologically important standing forests that are under a real and imminent threat of clearance, locking in carbon that would otherwise be released and securing continued absorption of carbon dioxide from the atmosphere.
The World Land Trust is an international conservation charity that protects the world's most biologically significant and threatened habitats. Instrumental in purchasing and protecting more than 700,000 acres of habitat in Africa, Asia, Central and South America and the UK to create reserves and give permanent protection to habitats and wildlife.
The Science Based Target Initiative is a partnership between environmental impact charity CDP, the United Nations Global Compact, World Resources Institute (WRI) and the World Wide Fund for Nature (WWF).
Companies adopt Science Based Targets to reduce greenhouse gas (GHG) emissions. They are considered "science-based" if they align with the decarbonisation level required to keep global temperature increases below two degrees Celsius compared to pre-industrial temperatures. We are honoured to say that one of the printers we use has been named the first UK-based SME print company.
Why Is Sustainability Good For Business?
Aside from the obvious reasons to help the environment and reduce carbon footprints, striving to be more green can also help a business's growth and reputation. According to Nielsen, 66% of global consumers say they're willing to pay more for sustainable brands, and 55% of young people in the UK say they would be more loyal to a brand that was reducing its carbon footprint.
Now is the time to make your company more sustainable. The longer you wait, the more carbon you will need to offset down the line. If you would like to talk to us about how to get one of the logos mentioned on your print material, contact us today:
01473 823700
enquiries@tridentmarketinguk.com