Social media is a key part of digital marketing, but with such a saturated market it's so important to keep up-to-date with the latest trends and behaviours to guarantee your business stays ahead of the curve. We have pulled together four key social media behaviours you need to be aware of in 2022.
1. Social Responsibility & Transparency
There was a time when it was key for companies to appear unbiased on social issues, but more and more companies are stepping out to share their missions and values on social media. According to Rawnet, 70% of people believe that companies should "make the world a better place" and 77% want to buy from companies dedicated to that goal.
Businesses came together in June 2020 for an Instagram blackout following Black Lives Matter protests. More recently, companies are not holding back in showing their support for Ukraine with more and more social posts from companies declaring they are stopping selling products or offering services in Russia. Vodka brand, Smirnoff, is a key example of this as they sell a product that is often linked with Russia. They have been marketing a new slogan – 'proudly made in America' – to create a separation from Russia during this time.
Your customers will like to see your values and transparency on social media and may even be more likely to make a purchase with a company that supports the issues they believe strongly about.
Tread carefully though! If you are very vocal on one issue but do not post about something else, the assumption would be that you are not in support of the other thing.
2. Brand Ambassadors & Influencer Relationships
Using influencers to promote products is a continually growing marketing tactic. Using big celebrities, however, is a thing of the past. Social media users want to see people that are more relatable and are much more likely to buy a product endorsed by their favourite TikTok or YouTube content creator than an A-Class celeb.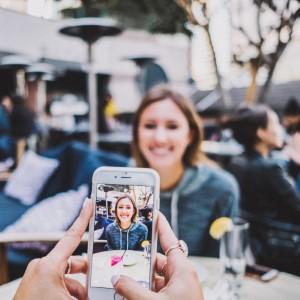 3. Increase In Social Media Ads
As social media continues to grow, it becomes increasingly more difficult for brands to stand out. So, it comes as no surprise that an increase in social media spending and higher budgets being allocated to social media ads is a key social media behaviour of 2022.
Businesses should use this opportunity to get to know their target audience more through targeted marketing and to take advantage of the platforms that offer easy-to-use paid-for posts such as Instagram and TikTok.
4. Social Shopping
Over the past two years, buyers became used to not being able to physically go to the shops for everyday items. During the first 90 days of the pandemic, e-commerce/online shopping saw a larger increase than it had in 10 years! More and more people (over 50% of social media users between the ages of 16-24) are turning to social media to discover new brands and shop for products.
There are many ways to sell through social media such as the 'shop' tools on Instagram and Facebook, as well as the new introduction of 'Live Shopping' on Pinterest which allows users to purchase the products discussed whilst watching a live stream. It is also possible to use TikTok for social shopping now that they have partnered with Shopify – brands can merge their website and profile, making it easier for customers to see their products and shopping tabs.
Want more help with your social media campaigns? Contact us today to see what we can do for you and your business.