Following the soaring house prices of the last two years and the massive demand for property causing a home-moving frenzy, things have finally started to slow down. Where people were snatching up properties before they even had time to upload images on real estate websites and making offers way above asking prices, as of October 2022, properties are now sitting on the sites for weeks and even months and, many times, prices are reduced and offers below asking prices are being accepted.
This is great news for buyers who will get more for their money, and the buying experience will be a lot less stressful; however, for those selling properties, the last two years have been a seller's paradise, and these new changes are a real hit to them as they struggle to sell.
But all hope is not lost!
At Trident Marketing, we have many clients within the housing sector and a breadth of experience in property marketing.
As the property market becomes more challenging to navigate and sales drop, ensuring your marketing reaches the right target audience and has effective branding could be the difference between selling a property straight away and having to reduce it.  We can work with you throughout the whole process of marketing your development, including research, naming your development and the individual houses, site plans, CGIs and more.
Website Development
As most people start their search for a new home online, having a digital presence is of utmost importance. Whether you are making sure your overall website is user-friendly and utilises the latest SEO guidance or the increasingly popular option of building a website for a specific development.
Our web developers can build you a stunning bespoke site or give your current website a new lease of life. Our web development services include web design, domain setup, hosting, CMS build, SEO expertise, analytics monitoring and support. We work closely with our clients, so they have a clear voice in the process. All sites created are responsive, modern and user-friendly.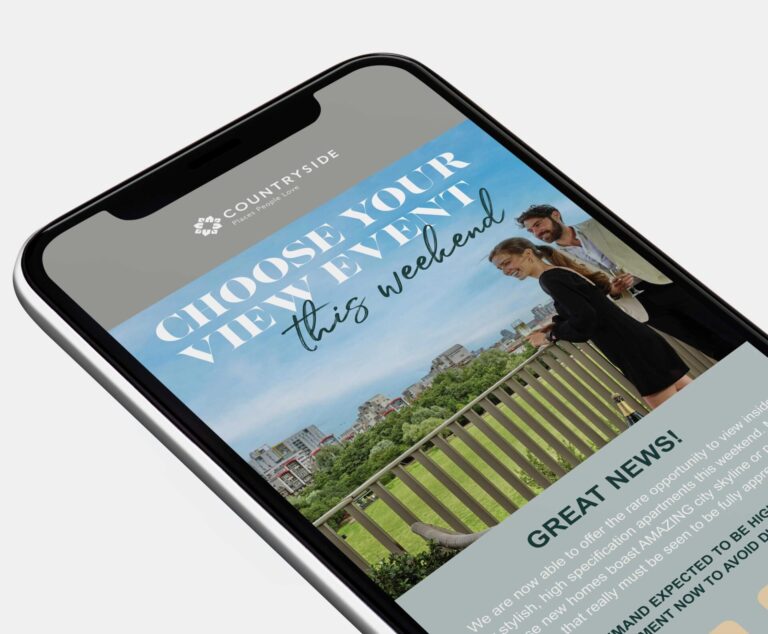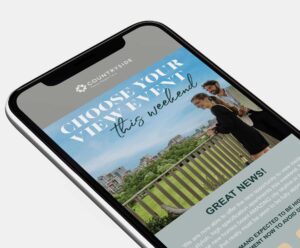 Advertising & Print Marketing
We offer a complete advertising service to give your message the best chance of being seen. Considering your goals and your target audience, our in-house specialists fully engage with your campaign from research, placement and booking to the design and utilisation of the advert specific to the chosen platform. According to ithinkproperty.com, 84% of readers like to read the newspaper's property section. Print adverts can massively increase awareness and excitement for an upcoming development.
One of our most used services within property marketing is our bespoke brochures, including full branding, logo design, layout, photography, copywriting, and our expert experience in the print industry to give a finish that gives the brochure a real wow factor including foil blocking, laminating, embossing, spot and matt UV. A brochure is key to selling new build homes as it gives your potential buyers an insight into your brand, quality and attention to detail whilst providing the opportunity to sell the location and detail specifications of the build.
Apps
We can design and build an app using Virtual Reality technology to allow future buyers to see what their property will look like in a fully immersive experience. This could be the tool that makes you stand out and above the competition.
CGI Graphics
Our team has in-depth knowledge of the property industry with a diverse portfolio, including photo-montage CGIs, high-rise apartments, site plans, virtual tours and interiors. Bringing your homes to life long before completion to secure early interest.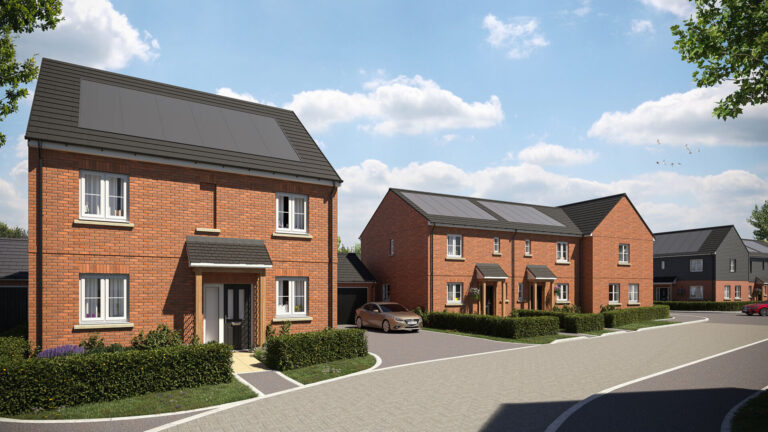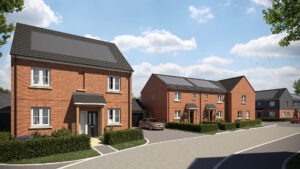 Sales Suites
First impressions count! We believe that creating the optimal setting for your potential customers is of paramount importance, influencing whether they choose to buy your properties.
At Trident Marketing, we have extensive knowledge and experience in designing, producing and installing marketing and sales suites that enhance the customer experience.
Signage
Our designers and project managers work together to produce clear and effective signage solutions to best suit your project. We have experience handling large and small projects, including site surveys, design, production and installation for hoardings, flags, V boards, Totems, Illuminated Signs, Digital Signs, Pitch Side Boards, Window Signage, Vehicle Wraps and more!
Social Media
According to techjury.net, people spend an average of 2.5 hours daily on social media. Making sure your business and individual housing developments have a strong presence across the different popular platforms means optimal exposure to your future buyers.
When it comes to social media management, we can take part in every step of the process, from creating your platforms, including sourcing an available username and creating a profile picture, to managing your platforms by writing captions, designing graphics and scheduling posts to go out every week.
One of the property developers we currently manage the social media for is WElink Homes. Check out their Instagram here: https://www.instagram.com/welinkhomes/
Is it time for you to step up your property marketing? Considering a rebrand? Struggling to sell properties in today's market? Let us be the answer to your problems.
Speak to us today:
01473 823700
enquiries@tridentmarketinguk.com