Shopping second-hand in charity shops is brilliant. You can find unique items at a fraction of the original cost, all whilst helping the environment and the charity itself. What's not to like? Our copywriter Rosie has bought two vinyl records, a rattan cutlery tray, a beautiful ceramic vase, and a never-worn John Lewis jacket with the labels still on… and that was just August's haul. Last year, she schlepped a huge armchair home on the roof of her car for a bargainous £35.
It's hardly surprising – everyone at Trident Marketing is focused on sustainability and we all make a conscious effort to do our bit. It's why we're sharing details of Oxfam's Second Hand September campaign with you. Its aim is to encourage everyone to shop second-hand and donate, reuse, rewear and restyle throughout this month – and beyond, of course!
The campaign has been running since 2019 and has already inspired thousands of people to shop in a way that is kinder to both people and planet. The idea is that you don't buy any new clothes for the month of September – come on, we can all commit to that for a mere 30 days! By signing up this year, you'll get a free limited-edition poster and postcard set so you can help spread the word about sustainable shopping.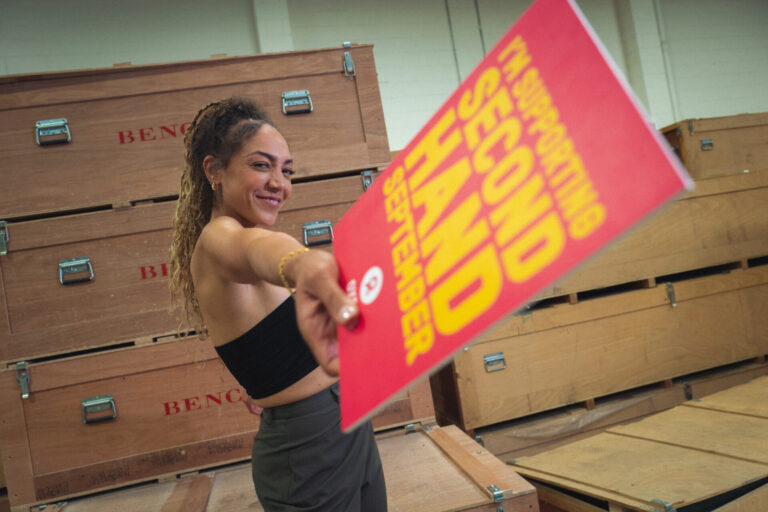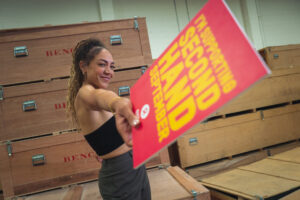 Did you know?
When a new pair of jeans is made, an estimated 16.2kg of CO2 is emitted – the equivalent of driving over 58 miles in a car. So, by recirculating our clothes (buying, wearing and donating second-hand) we can help to reduce the demand for new clothes. And this could in turn help to reduce the damage to our planet.
No Oxfam near you? Fear not! They have partnered with Joules, Superdry, Mamas & Papas, M&S, Sainsbury's and House of Baukjen, so you can drop off your donations there too.
If you get involved, make sure you share your secondhand finds on social media using the hashtag #SecondHandSeptember.
Find out more: https://www.oxfam.org.uk/get-involved/second-hand-september/